Curriculam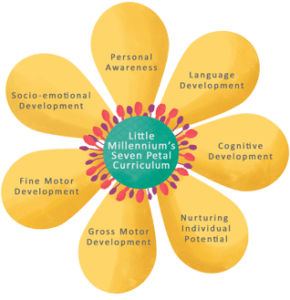 Early childhood development plays a crucial role in preparing your child for the struggles of life. The Little MillenniumTM Perungudi' preschool curriculum has been designed to ensure steady growth and holistic development of 2-6 year olds. This consists of several fun-filled, entertaining and knowledgeable activities that promote all-round skills development while also maintaining the elements of joy, excitement, health, good values and interaction with one another. These activities are known to bring out the best in every child.
Together, we play, learn and grow; a motto focussed on early childhood development!
Preschool Levels
Little Millennium Perungudi's Preschool Program levels have been strategically designed to ensure holistic development of your child. Explore our preschool programs to understand why Little Millennium Perungudi is indeed, the best play school for kids in India.
Choosing the right preschool is important for your child's holistic development in their formative years. For more information about our nursery admissions process, take a guided tour through our facilities to experience all that 'Little Millennium Preschool Perungudi' has to offer.